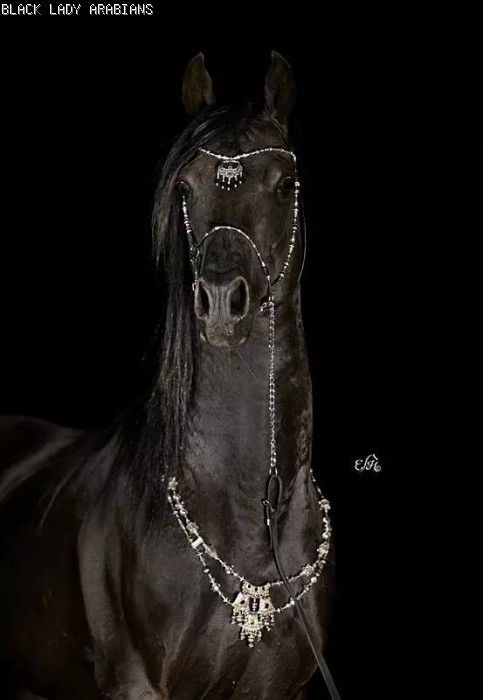 HS Piranesi
sold - Switzerland
(Simeon Sadik x HS Pipistrella)
stallion, black, 2002
Breeder: Mrs Shirley Watts /Halsdon Stud
Owner: Black Lady Arabians
Sire line: Saklawi I
Dam line: Rodania or.ar.

Simeon Sadik
Asfour
Malik
Hanan
Simeon Safand
Sankt Georg
27 Ibn Galal V
HS Pipistrella
Pilot
Fawor
Pipi
Pikieta
Probat
Platyna
HS Piranesi is homozygotous black son of one of the worlds' best black stallions and sires, Straight Egyptian Simeon Sadik purchased from Simeon Stud in Australia to Halsdon Arabians for the price about which the speculations are around 1 million US Dollars.

Simeon Sadik is a title holder of 1995 Australian East Coast Champion Stallion, 1996 U.K. International Champion Stallion, 1997 World Reserve Champion Stallion, 2000 European Reserve Champion Stallion, 2000 and 2003 All Nations Cup Reserve Senior Champion Stallion that makes him one of the very few black Arabian horses in the history entitled with such precious trophies. He is also a sire of well known and entitled offspring like HS Etiquette used in Polish breeding, one of the best broodmares in Simeon Stud – Simeon Setavi, World Junior Champion Reserve Filly 2002 – HS Ramira or All Nations Cup Top Five Maya des Alpes.

Dam of HS Piranesi is Pure Polish HS Pipistrella currently owned by Strydom Arabians in South Africa, daughter of Janow bred Pilot (UK, Polish National & Blommeröd Champion Stallion) and Michałów bred Pikieta by Probat, All Nations Cup, twice UK & Blommeröd Champion Mare, World & Polish National Reserve Champion Mare.