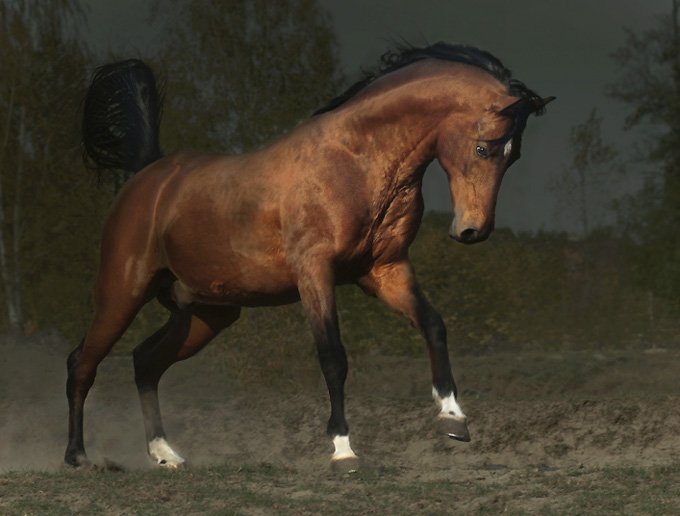 The adventure with arabian horses began for me in 1993, when my parents bought me an arabian horse for my 13th birthday, at the auction organised by the Warsaw Racetrack. It was a 5 y.o. pure bred bay stallion, bred by the Kurozweki State Stud – Herold (Algomej / Heraldyka / Palas). It was a love at first sight, and Herold proved to be the most versatile and wounderful compaion I could have hoped for. He was a successful race horse, and after we bought him, began his career in long distance riding, where we succeeded up to 120km rides. He was very kind and loving, no stallion vices, and I always came first, which made me believe that all arabians must be just like him.
Unfortunately, when he reached the age of 15, his health got worse, and I started to look for another arabian, that would be just like him. This search finally ended in 2017, when we managed to buy Hulina and Hulala, who belong to our beloved Kurozweki Stud H line.
The real adventure with Arabian breeding started for my husband and me only in 2018, along with the birth of colt Harry Blacklord, next member of H line.
When Herold died in 2007, and beacuse I could not find another stallion that would fill the emptiness after his death, I decided to buy my first mare and imported black Blacklady Zareefa from the States, hoping that she will be the foundation mare for my black breeding program. Unfortunately she never had progeny, but our stud was named after her.
For Herold, who will always be the most wonderful arabian horse I have ever met. I hope you are happy, my dear friend.